Going green, or making efforts to reduce negative environmental impacts to the Earth, is not new. In fact, green movements have been prevalent across the world since 1285 when thick smog from burning coal started presenting health concerns. However, only in the last 50 years, since scientists, environmentalists and climatologists began keeping records of changing physical environments over time, has it become a more pressing issue.
Simple, everyday tasks can improve sustainability. We reduce, reuse, recycle; turn the lights off; conserve water, and so on.
And while these small tasks can collectively make a difference if we all do our part, most environmental impacts come from the country's largest sectors, including industry, electricity, commercial and residential, transportation and agriculture.
Today the United States is the second-largest greenhouse gas (GHG) emitter, exuding approximately 4.85 million tons of carbon dioxide (CO2) in 2020.
How does Texas stack up against other states? Well, everything is bigger in Texas, and that includes its carbon footprint. According to the World Resources Institute, Texas has been the largest GHG emitter in the U.S. for over a decade, with California being consistently second. This may not be a surprise since Texas and California both rank in the top two states for population and economic size, but Texas has more work to do to protect its environment.
The Health Care Footprint
The health care industry is one of the biggest culprits when it comes to energy use. Worldwide, the health care industry is responsible for about 4.5 percent of the world's GHG emissions. About a quarter of that can be attributed to the U.S. health care system, which is more than any other nation's health care system, according to a recent study from Yale University.
Hospitals and pharmaceutical companies are the biggest contributors to the health care sector's high emissions. Hospitals, in particular, are extremely energy-intensive, with technology, lights and equipment on around the clock.
"We are a 24/7, 365-day operation that always has to have the lights on and temperatures regulated," explained Deb Brown, chief operating officer of Dell Children's Medical Center in Austin. "The air, electricity, IV pumps, ventilators… they all use a great deal of energy and there's really not a downtime in hospitals."
Hospitals and health system facilities can exceed hundreds of thousands, sometimes millions, of square footage. Considering the summation of facility size and constant energy needed provide lifesaving care in hospitals and health systems, health care's significant carbon footprint becomes understandable.
There are many organizations working toward more sustainable outcomes and challenging other organizations to do the same through thoughtful collaboration. The Texas Commission on Environmental Quality (TCEQ), for example, works with companies and organizations at the state level and with the Environmental Protection Agency (EPA) at the national level to protect the state's public health and natural resources to support sustainable economic development. These organizations and hospitals share the common goal of protecting public health.
"TCEQ strives to work with our regulated community to ensure that public health and the environment are protected. In doing so, there are multiple areas that we regulate that impact hospitals, including waste, wastewater, drinking water, and air quality impacts," the organization shared in a statement.
In looking at emissions, you also have to factor in all of the production, manufacturing and shipping that goes into supplying hospitals with these items, and a lot of them are petroleum-based.

SHAUN CLINTON, SENIOR VICE PRESIDENT OF SUPPLY CHAIN MANAGEMENT, TEXAS HEALTH RESOURCES
Waste production is also a considerable factor in health care's environmental impact. Hospitals are high in waste production, producing more than five million tons of waste each year or over 29 pounds of waste per bed per day, according to Practice Greenhealth, a nonprofit membership organization founded on the principles of positive environmental stewardship and best practices by organizations in the health care community.
"There are a lot of single-use, disposable materials that run through health care for infection prevention and patient and provider safety purposes," said Shaun Clinton, senior vice president of supply chain management for Texas Health Resources.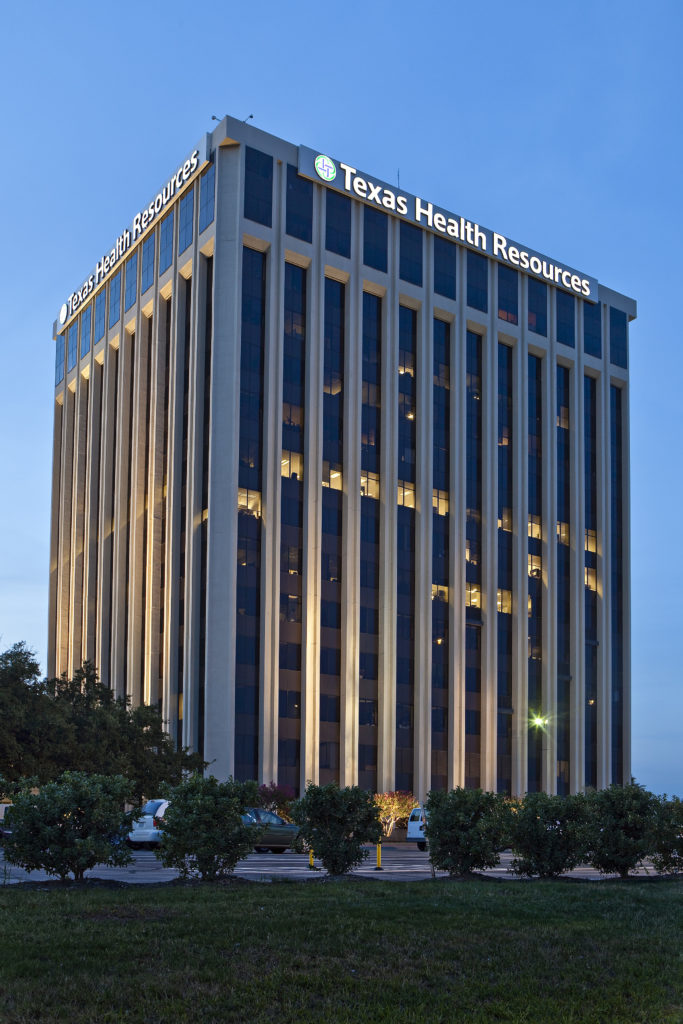 Implementing Green Initiatives
Thankfully, many Texas hospitals have already implemented green initiatives to reduce their footprint and play a bigger part in protecting their communities.
Texas Health Resources, a health system with 29 hospitals and more than 350 health care access points in North Texas, is one organization prioritizing conservation and sustainability.
"As one of the region's largest employers, Texas Health is responsible for caring for 7 million people living in 16 counties. As a nonprofit, we must carefully steward the resources in which we are entrusted so that we can fulfill our mission. We do this by intentionally looking for ways to operate efficiently, forging strategic affiliations to leverage our shared resources, and designing programs that close care, cost, and consumption gaps," CEO Barclay Berdan said in a statement.
For the last three years, the health system has been recognized on the Texan by Nature 20 list of the best and most innovative work in conservation coming from Texas-based businesses. Texas Health was the only health care organization to be honored in 2021.
"We're in the process of replacing all our lights with LED bulbs and, as far as utilities are concerned, we partner with more energy efficient utility providers which helps us with cost savings as well," said Clinton. "We continue to explore ways we can maximize use of our renewable energy sources, like wind and solar power."
Besides swapping sources for energy-efficient alternatives, the health system has also prioritized planning and creating facilities with sustainability
in mind.
"All new buildings we build to meet LEED certification requirements and in existing facilities we certainly try to make adjustments to meet LEED certification where we can and when it makes sense," Clinton added.
The Leadership in Energy & Environmental Design (LEED) certification is a globally recognized symbol of sustainability achievement and leadership. The LEED rating system is the most widely used green building rating system in the world, providing organizations with a framework to develop healthy, efficient, carbon and cost-saving green buildings. The highest level of LEED certification is platinum.
"Our Texas Health Harris Methodist Hospital Alliance hospital was built to the LEED certification standards and was the first hospital in North Texas to receive the platinum certification," said Clinton.
Ascension Texas is also leading the way in health care sustainability. Two of the system's 14 Texas hospitals have been recognized for their green initiatives. Dell Children's Medical Center of Central Texas was recently named to Becker's 68 Greenest Hospitals list along with Dell Seton Medical Center at the University of Texas, another Ascension hospital. They were the only Texas hospitals included on the list.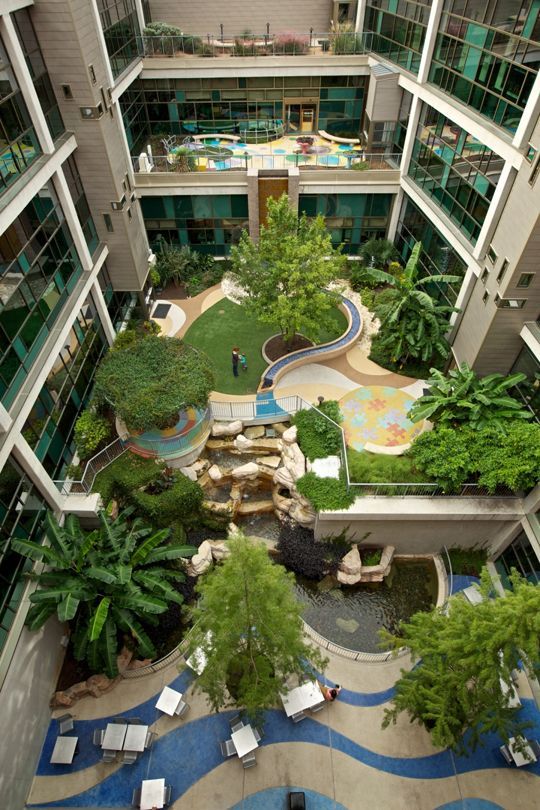 Dell Children's Medical Center in Austin opened in 2007 as the world's first-ever LEED platinum hospital. Later, Dell Children's became the standard for the LEED for Healthcare (LEED-HC) Platinum designation. The hospital, built from 60 percent salvaged or reused materials, includes sensory gardens, non-toxic medical equipment, efficient appliances to reduce water waste by 38 percent, eco-friendly paint on the walls, a reflective white roof for natural cooling, a solar power system and more. Dell Children's even has its own energy plant.
"When we opened the building, we developed a partnership with Austin Energy and built a power plant so that we're able to produce energy to heat and cool water and energize the facility," said Brown. "The medical center's efficiency procedures have resulted in energy savings that could power about 1,800 homes in Austin."
In addition to energy and cost-savings benefits, the hospital's green initiatives also positively impact the morale of both patients and health care workers. Brown explained the facility's many healing gardens and outdoor spaces have provided a safe, healing place for patients and their families who are dealing with challenging medical situations or long hospital stays.
New team members are introduced to the hospital's sustainability efforts early within their orientation process. They quickly understand what LEED platinum building status means, what items are recyclable, why the facility doesn't have sprinklers and why they don't use certain pesticides.
"We're constantly looking to implement even more green efforts," Brown shared. "We have what we call our Dell Children's Green Team which is a council of participants from all different disciplines that looks for new ways we can be sustainable — whether it's a new food composter or optimizing a process — they are our conservation thought leaders."
A Lasting Impact
The initiatives already being implemented in Texas hospitals have produced immense energy and cost savings. With more hospitals and health systems integrating conservation and sustainability efforts into their facilities and operations, the impacts to the state's ecosystem could be exponential.
"As organizations refresh what their building looks like, whether it's painting the walls or installing new flooring or buying new beds, they should consider the sustainability of what they're purchasing," offered Brown. "Some sustainable options can be a little more costly up front, but if it reduces your carbon footprint, I think it's better for all of us in the end."
There are also several operational efficiencies that existing hospitals can undertake to improve their footprint. This might include composting, switching to non-antibiotic foods or foods without preservatives, sourcing foods locally, recycling non-hazardous materials, using windows and blinds for natural heating and cooling or switching to vendors who align with your energy conservation mission. Dell Children's and Texas Health both cited partnerships with sustainable vendors and utility companies as integral to the success of their green initiatives.
"Our job is to care for the people in our community, and part of that is making sure it's a healthy community they live in," said Clinton. "It's important that we're good stewards of our environment."
Clinton also shared his philosophy about planning for sustainable health care in the long term, stating: "We always have to look at the big picture: Health care is not going anywhere so it's important we make decisions through that lens."